California SB 1431 has been signed by the governor amending CCP § 415.21, effective January 1, 2017.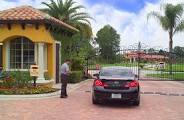 It would require an investigator who is employed by an office of the Attorney General, a county counsel, a city attorney, a district attorney, or a public defender, upon the display of proper identification, to be granted access to a gated community for the sole purpose of performing lawful service of process or service of a subpoena.
The full text of the bill is posted here.
We posted Blog comments last September when an amendment to this law removed the requirement that the server identify the name of the defendant or witness to be served.
This law was initially passed in the 1993 as a response to the holding in a Court of Appeal decision which validated a substituted service on a security guard at a gated community.  See Bein v. Brechtel-Jochim Group, Inc., 6 Cal.App.4th 1387, 8 Cal.Rptr. 351 (1992).