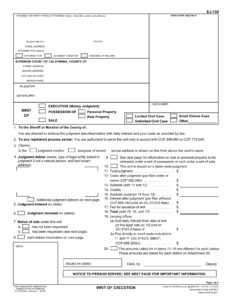 California AB 2211 was signed into law by the governor which will allow a registered process server "cause to be delivered" a letter, fees, and a writ to open a levy file with the sheriff.  The amendment removes the requirement that a registered process server open the file. The law becomes effective on January 1, 2017.
It does not change the law requiring that a registered process server to be the one serving the actual attachment or levy.
This will hopefully relieve process servers from waiting in line for 2 hours in Los Angeles just to open the levy file.  Although inferred, the amendment did not unequivocally address the closing of the file by filing the proofs of service within 5 court days after commencing the levy.
What that will do is free up time of the RPS and allow a messenger or in-house court runner to open the file instead.  I wonder how that might work, given the problems I have fixed at the counter when I have opened levy files, saving a return trip. I also wonder if this might result in more levies being served by non-registered process servers.
The bill also re-worded, and made a stronger statement about recovering costs for the registered process server's fee for services of the writ.
The bill had no opposition.
The law, as amended, is posted here.